The next several years after the 1977 Camaro was sold could be considered the dark ages, but that puts a negative connotation on an exciting period of my life. My late 20s and early 30s were a time of correspondingly big ups and downs: marriage, divorce, remarriage, children, job switches, new career. All of these made for interesting times.
1994 Harley Springer Softail
In my late 20s, I had a reliable albeit plain and boring daily driver in the form of a 1996 Chevy Blazer. Learning from my mistakes, I kept the Blazer (which I owed no money on anyway) and bought a 1994 Harley Davidson Springer Softail.
The Springer was a great motorcycle. An absolute joy to ride, I left it stock at first, until an unfortunate accident at low speed damaged the right side of the bike. I used the opportunity to make several cosmetic improvements.
2000 Mustang GT
A short time later I found myself with a new job and much more disposable income, so I decided to upgrade my daily driver, using the Blazer as a trade-in toward a brand new 2000 Mustang GT.
While the picture above is not a picture of my Mustang, it is identical to mine. Not long after purchasing it, I performed a series of sensible upgrades like a cold air intake, underdrive pulleys, new exhaust, and 3.73:1 gears in the rear end. While the Mustang was not the most powerful car I had owned, it was arguably the best overall, especially in terms of handling.
2000 Harley Davidson FXR4
While I truly loved the Springer Softail, in 2001 I came across an ultra-rare find: A Harley Davidson FXR4.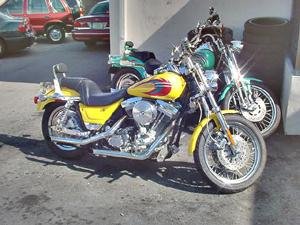 The FXR format was designed by the legendary Erik Buell and released in 1982. The FXR was replaced by the FXD in 1994. Rumor had it that a few years later, Harley discovered that they had a surplus of leftover FXR frames and decided to release some limited edition motorcycles, though that has since been disputed. They released limited edition FXR2 and FXR3 models in 1999, and FXR4 in 2 colors in 2000. All of those bikes were identical to earlier model FXRs, but basically contained a pile of off-the-shelf beautification upgrades that would otherwise add a few thousand dollars to the bike's purchase price.
984 FXR4s were made for model year 2000, with 664 of them painted in yellow pearl. So when I stumbled across one of these for sale in the local newspaper, I jumped at the chance. It wasn't much of a "hot rod" in terms of performance but it was the best motorcycle I've ever owned.
A long break and missteps
Eventually the economic burden of paying for a car loan and a motorcycle loan, along with other economic challenges, led me to get rid of both the Mustang and the Harley. I paid cash for a 1996 Bronco Eddie Bauer Edition. The decision was a wise one, economically, and the Bronco a great daily driver.
A few years later, after I was further along in my career and my kids were older, I tried to take on a few projects, with no success. I purchased a 1980 Camaro for $750, but later determined it needed too much work. A year later, I found a 1972 Chevelle SS clone and it also needed more work than I expected. Finally, I located a dream car for sale.
1951 Buick Roadmaster
In 1991 it was love at first sight as I read about a 1950 Buick built by Troy Trepanier. A typical build for the 90s, the 1950 Buick's lines and grille drew me in immediately. I was also thrilled to learn that Troy and I were the same age.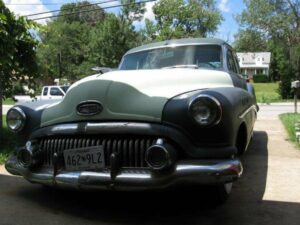 When I found the 1951 Buick Roadmaster for sale, I had to have it. Although it isn't a 2-door and doesn't have the massive grille of the 1950, it is still an awesome car. You'll see more of it in upcoming posts.