When it comes to practicality, it is hard to get less practical than a Corvette. But, I managed to succeed. While a Corvette has seating for only 2 people and a very tiny cargo area barely big enough for groceries, a motorcycle is much less convenient for day-to-day usage. Sure it can carry 2 people, but you're limited to carrying whatever you can fit in a backpack or saddlebags – and saddlebags are uncool! So what did I do with the Corvette? Traded it for a Harley!
1986 Harley Sportster 1200
Why does this qualify for an entry in "My history of hot rodding"? Because this thing was fast. In fact, it was shockingly fast and, to this day, I don't think I ever really found out how fast it was off the line.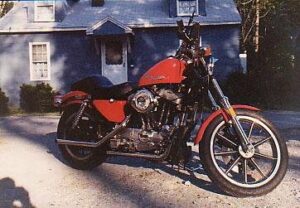 Sportsters are given a bad rap among motorcycling circles because they're often seen as a beginners bike. They're the least expensive motorcycle in the line-up and are smaller & lighter than the other Harleys and so it is easy to assume it is entry level. However, it offers the best power-to-weight ratio out of the box, the best handling, and it is an important fixture in motorcycle and Harley history. It was a fierce competitor in motorcycle racing's early years, it is the longest running model of motorcycle in Harley history. Its basic configuration remains largely unchanged in terms of height, width, weight, and ground clearance since 1957.
That said, it has been a long time since the Sportster was relevant in racing outside of NHRA and IHRA. One of the best shops in the world is Zippers Performance in Elkridge, MD. The Sportster received an upgrade from 883cc to 1200cc via Zippers' "Mountain Motor" package which included work on the cylinder heads, larger pistons & jugs, higher compression, and new camshafts. It also had a new carburetor.
In terms of horsepower, it was roughly equivalent to today's Suzuki GSXR-600, so still not breaking any records, with the difference being when it makes its power. This motor was at about 75% of its total power at 2000 RPM with a mostly flat power curve, delivering maximum HP and torque by 5000 RPM and redlining at around 6000 RPM. The GSXR-600 doesn't even make any real power until 12000 RPM and doesn't meet where my Sportster was until about 1400 RPM. The more size-equivalent GSXR-1000 would absolutely spank my Sportster across the board, however and is a joy to ride.
That low-RPM immediacy of power was downright scary, if I'm honest. Twisting the throttle hard off the line always resulted in the front wheel pointing skyward unless I was laying on the gas tank, at which point the wheelie was more at a 15-30 degree angle, staying there until 2nd gear. Over time, I learned to play with the clutch enough to do some pretty sweet burnouts for 100 yards or more.
In short, the 1986 Sportster was ridiculous fun. Ultimately, the impracticality of having a motorcycle as my primary form of transportation was made more obvious with every passing day. Luckily, the market for Harleys in the early 90s was burning white hot. I was able to sell it at a profit and work to find the favorite car I've ever owned, which we'll hear about in the next installment!