The 70s were an amazing time to be a kid
To be a kid in the 70s – especially a boy – was an amazing time. We got the first Superman movies, Star Wars, Happy Days, and the first electric toys. The early 70s were also an an awesome time for cars. We tend to think of the late 60s as the golden age of muscle, but that's objectively false. In truth, the peak of that era was more like 1970 and 1971 with cars like the the 1970 Camaro SS 396, the 1971 Corvette ZR1, 70 & 71 Dodge Challenger RT/ Plymouth AAR Cuda, and Mustang Mach 1. True, all of these would be cancelled or choked and uglified by emissions and safety standards of the mid-70s, combined with the OPEC Oil Embargo and American automakers' lack of creativity but these giants still roamed the streets when I was a kid
Of course, I was far too young to drive any of those, anyway. Throughout the years, my parents had some cool cars. My mother had a 1967 Vette, my dad had some interesting MOPAR before I was born, and they had a 1969 Mustang Mach 1 when I was born. For me, there were Hot Wheels! For those who don't know, Matchbox cars were always more like real life cars, whereas Hot Wheels were customs. The initial set of Hot Wheels in 1968 were designed by Harry Bradley who also designed real life customs.

If I knew then what I now now, I could retire off of the value of the Hot Wheels and Matchbox cars I had as a kid. The Red Baron Hot Wheels car, pictured above, currently goes for $200 in good condition. Throughout my childhood I was a Hot Wheels freak and had buckets of them, as they were under $1 each those days.
My first car: 1970 Camaro
Well, that's not entirely true. In fact, it was a 1979 Dodge Aspen (the follow-up to the Dodge Dart/ Plymouth Duster). Back in 1989, my father came home one day and said "We're gonna hot rod this thing and it'll be yours". We ripped out the 318 motor, sent it to a machine shop, and waited. And waited. And waited long enough that my dad and I went back to the machine shop where he found out that they still didn't have it done. When we got home, he decided we were going in a different direction and told me to get out there and find another project car. Max budget: $1000.
Looking back on it, I passed on a pile of really cool cars, including a Plymouth Roadrunner and Dodge Challenger RT. Eventually, I landed on a 1970 Camaro:
We exceeded the budget a little bit, paying $1250 for it, but it came with a fresh "Targetmaster 350" crate motor and new Centerline rims. The body was in pretty good shape, though the previous owner had hacked up the rear quarter panels in an attempt to fit the monstrous back tires. As a result, they were filled with Bondo. The car also ran on air shocks to make room for the big tires. All-in all, it was a super cool car for a kid at 17.
I didn't take nearly enough pictures of this car during the initial time period that I owned it, but it was a lot of fun. The first thing we did after bringing it home was remove the 2-barrel carburetor, cast iron intake manifold, and points ignition and swapped in an Edelbrock carburetor, Edelbrock intake manifold, and HEI ignition. Then I drove the hell out of that thing!
Eventually, it was time to deal with that hideous Bondo in the quarter panels. My dad found a guy who did paint and body work to replace the quarter panels and paint the car a dark blue. We also put on a fiberglass L-88 hood, front spoiler, and new wheels. The blue paint and turbine-style wheels were inspired by the 1979 Camaro Berlinetta my mother had when I was in elementary school.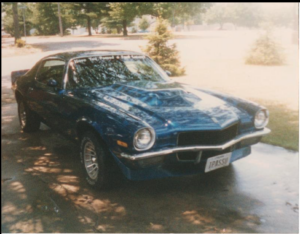 Over the next few years, I would install a new interior in the car, repaint it, and swap out the motor. Twice. Below is a picture of 19 year old me standing next to a freshly rebuilt and assembled 355 engine – the last one I'd install right before selling the car.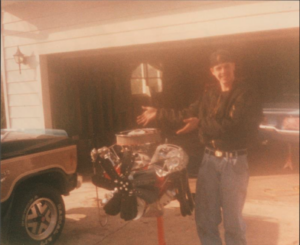 The engine before that one was a 355 with a 4-bolt block, a monster camshaft with Corvette cylinder heads, forged internals, and 11.25:1 compression. It was an absurd motor for a daily-driven car and got horrible gas mileage. Eventually, it spun a rod bearing and needed to be replaced. So, I took the prior motor, rebuilt that one, and put it back in (that's the picture above).
Today, almost 30 years later, I still have the engine block from that 2nd motor. I had that block freshened up and it will eventually go into my 1951 Buick Roadmaster. But that will need to wait for another time.